More about us
During Operation Iraqi Freedom and Operation Enduring Freedom in Afghanistan, military orthopaedic surgeons were challenged with a surge of casualties with complex single or multiple extremity injures. While advanced field care and the use of body armor reduced combat mortality, it increased the injury burden to the unprotected extremities. Critical challenges surfaced, including complex wound management, infection, bone and articular surface loss, blast-related heterotopic ossification, segmental nerve injury, volumetric muscle loss, acute compartment syndrome (ACS) and severe psychological stress that can complicate long-term recovery. At the same time, surgeons at Level I trauma centers across the country were experiencing similar challenges for treating civilian patients with high energy traumas, such as severe leg injuries with open fractures, bone loss, muscle and nerve damage, heavy contamination and compartment syndrome.
With lobbying support from the American Academy of Orthopaedic Surgeons (AAOS), the Department of Defense (DOD) requested proposals for an inaugural peer-reviewed consortium grant for Extremity War Injury research in 2008. Rather than submit competing applications, existing trauma research teams from the Lower Extremity Assessment Project (LEAP) study, the Southeast Fracture Consortium and the Orthopaedic Trauma Research Consortium worked together to develop an inclusive and unified approach, assembling top talent from around the country. As a result, METRC was formed, and in 2009 was awarded the DOD grant to establish a clinical research platform infrastructure and initiate prospective clinical research targeted to infection, ACS and bone healing.
METRC has grown and evolved to become the largest orthopaedic trauma research enterprise to date. The Consortium has conducted more than 35 studies, enrolled more than 23,000 patients across more than 80 sites and published more than 60 papers, resulting in increased awareness and funding for extremity trauma care.
METRC is sustained through its dynamic and responsive approach to competing for funding which leverages the working group's many infrastructural and intellectual accomplishments. As METRC looks to the future, it continues to engage its partners in important collaborative research and remains relentlessly dedicated to its core mission.
METRC Organization
The work of the Consortium is governed by the Executive Committee and supported by several other standing committees.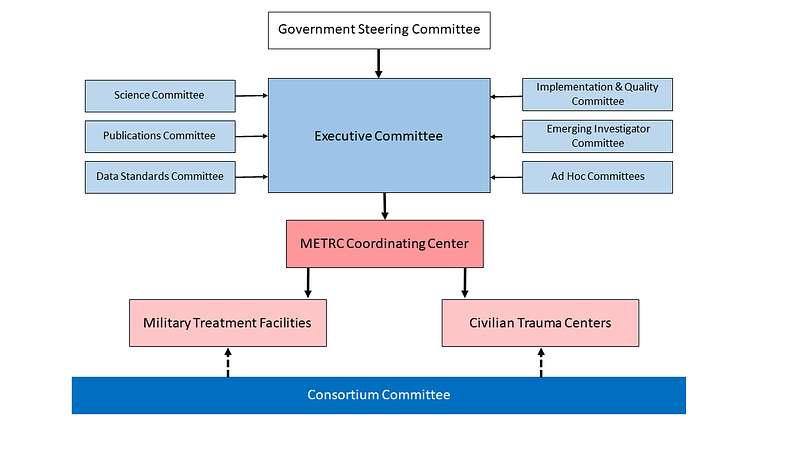 ---
METRC Wins the 2023 Kappa Delta Elizabeth Winston Lanier Award
The 2023 Kappa Delta Elizabeth Winston Lanier Award was presented to the Major Extremity Trauma Research Consortium (METRC) for its multi-disciplinary research platform addressing the challenging issues related to the evaluation, treatment, and recovery after severe extremity trauma. This award recognizes research in musculoskeletal disease or injury with great potential to advance patient care.
The Kappa Delta Awards have been presented by the AAOS to persons who have performed research in orthopaedic surgery that is of high significance and impact. This year's award to METRC is also significant because it was awarded to the Consortium, not to a named individual. Read more about this prestigious award here. mities.